This interesting information appeared in "Next City" by Sandy Smith in their September 30, 2014 issue:
http://nextcity.org/daily/entry/jakarta-light-rail-hong-kong-rail-indianapolis-trolleybus
Indy Poised to Build Nation's First Trolleybus Rapid Transit Line
Among the thousands of projects that received funding in the 2014 round of
TIGER
grants is one that could lead to the development of a new type of rapid transit using a proven but largely abandoned technology: the nation's first trolleybus rapid transit line.
Indianapolis' Fox 59
notes
that the $2 million
TIGER
grant awarded to the Indianapolis Metropolitan Planning Organization moves the city one step closer to construction of the Red Line, a 28-mile long north-south line running from Carmel to Greenwood via downtown Indianapolis that would be operated by electric buses drawing their power from overhead trolley wires.
The grant will pay for engineering and design studies; the cities of Carmel, Greenwood, Westfield and Indianapolis will chip in to cover the remaining one-third of the $3 million cost of the studies.
A number of U.S. cities purchased trolleybuses, or "trackless trolleys" as they are also known, in the 1940s and 1950s to replace aging streetcars, but most of the cities that operated them eventually took down the wires. Seattle and San Francisco have the most extensive trolleybus systems still in operation today; both cities kept their lines because trolleybuses are better able than diesel buses to scale their steep hills. Boston and Philadelphia also still operate trolleybus routes, but the proposed Indianapolis line would be the first use of trolleybuses in
BRT
service.
The mayors backing the "rail on tires" proposal tout it as giving Indianapolis an edge in attracting younger residents. Funding to cover construction of the line has yet to be lined up.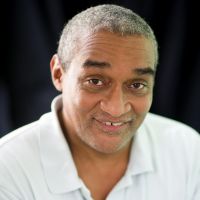 Philadelphia freelance writer Sandy Smith runs the
Philly Living Blog
for Noah Ostroff & Associates, a Philadelphia real estate brokerage. A veteran journalist with nearly 40 years' experience, Smith writes extensively on transportation, development and urban issues for several media outlets, including
Philadelphia
magazine
online
.
Comments: I have in my archive from the Electric Railway Association that around August, 1989, the New York City Transit Authority had plans for a sort of Trolleybus Rapid Transit lines in Brooklyn on Church Avenue and near Co-op City (Bx15) in the Bronx and Second Avenue in Manhattan.. Around 1992, the MTA started to actually study this. Around this time also. Los Angeles also planned a large trolleybus system. Because the Los Angeles system fell through (in favor of Light Rail), the New York City interest failed as well because of linkage. Bus Rapid Transit did come to New York City on various routes, but of course, without the trolleybuses.
I wish Indianapolis and its' citizens good luck with this project, they need it.
Tramway Null(0)